Global: Disruptive Technologies: FDI, Drones and Urban Air Mobility
Date: 17 December-2020
Time: 12:00 PM (UAE Standard Time GMT +4), 08:00 UK, 09:00 CET, 10:00 SAST
Duration: 1 hour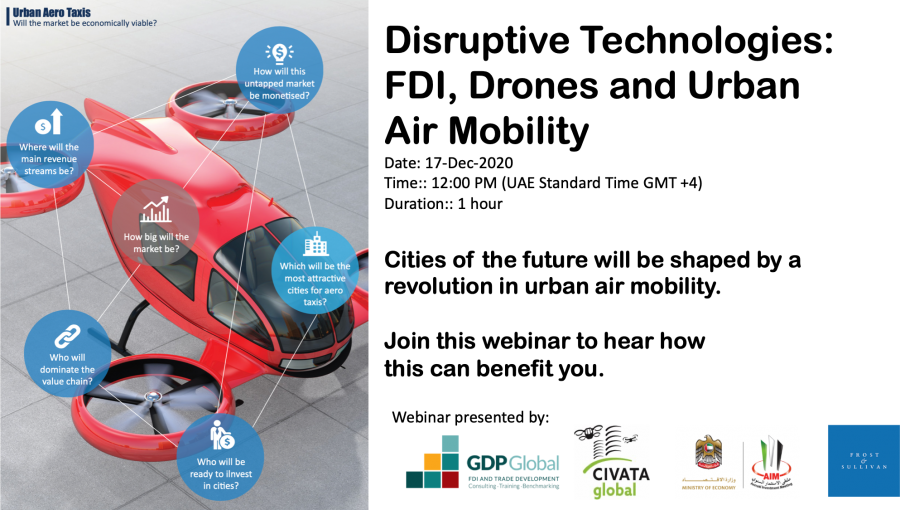 Presenters
Aman Pannu: Vice President Aerospace, Defence & Security Team of Frost & Sullivan Global
Andrew Charlton: Director General of CIVATAglobal
John Hanna: Director, GDP Global
Moderator: Director, AIM Congress

Webinar themes
1) Disruptive technologies and related prospects for domestic and foreign direct
investment FDI. – GDP Global.
2) Trend forecasting: Autonomous vehicles – understanding how industries and
markets – civil, commercial and military can grow and become more efficient. – Frost
& Sullivan.
3) Urban air mobility (UAM) operations, from small unmanned air system (sUAS)
missions to urban air taxi networks and inter-city services. Prospects and issues
for enabling the introduction of safe, profitable, environmentally responsible UAM
in cities worldwide. – CIVATAglobal.

Webinar participants
Country relevance – global. This webinar is of interest to officials and private
individuals with an interest in promoting FDI and local investment. Also, private sector
interests in autonomous vehicle and transportation.