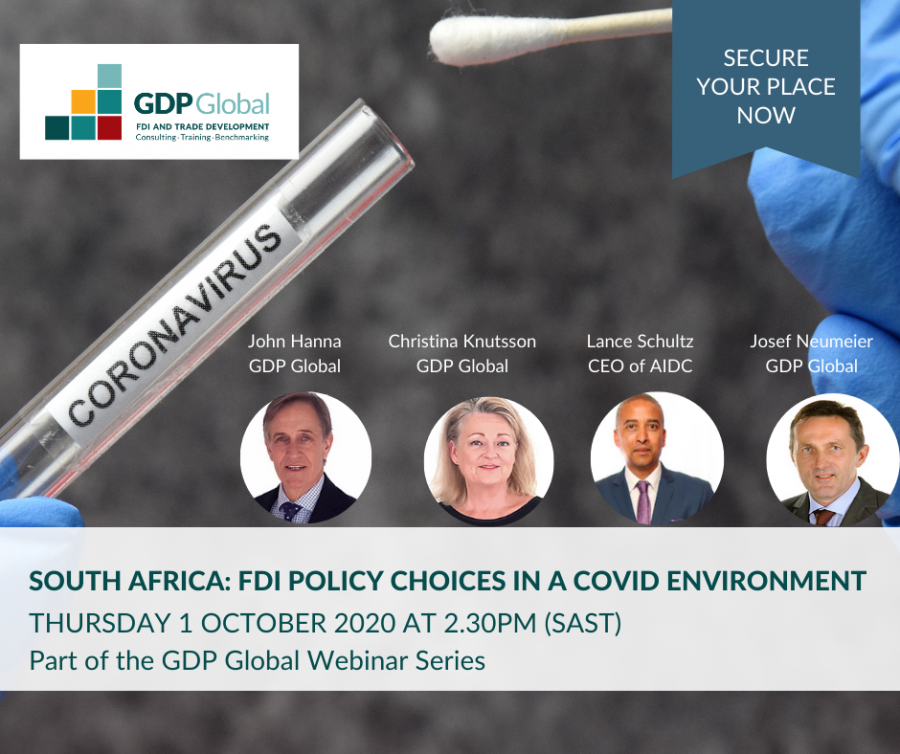 FDI Prospects and the Impact of Disruptive Technologies
Date: 29-October-2020
Time: 2.30pm (SAST)
Duration: 1 hour 15 minutes.
As part of our webinar series on investment and trade promotion and economic policy, this webinar discussed the current issues facing those making policy choices in a COVID environment, specifically within South Africa.
Presenters
Josef Neumeier, Associate Director Economic Promotion at GDP Global
John Hanna, Director at GDP Global
Lance Schultz, CEO, Automotive Industry Development Centre (AIDC), Board Member GGDA.
Facilitator: Christina Knutsson, Director GDP Global
Webinar themes
Trade and FDI flows and Prospects post-COVID

 

Best Practice Policy Actions

 

South & Southern Africa Responses at Policy and State Levels

 

Sector Prospects

: Manufacturing

Our Guide: Checklist and Prospects for South & Southern Africa Manufacturing Value Chains

GDP Training with GDPKnowHow 
Our speakers shared case studies to help provide pragmatic policies and solutions for South Africa, especially in the ongoing COVID-19 environment.
Webinar audience
This webinar is of interest to officials and private individuals with an interest in promoting FDI and trade in South and Southern Africa including the dtic, InvestSA, TISA, provincial, city and SEZ promoters, national IPAs and ministries of the SADC member countries and private sector interests in investment and trade.