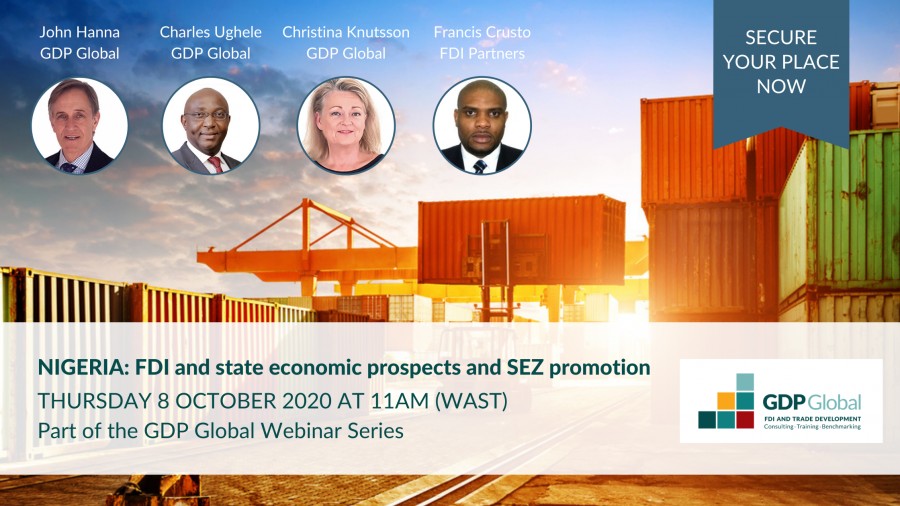 Nigeria & West Africa: FDI and state economic prospects, SEZ promotion

Date: 8-October-2020
Time: 11am – 12.30pm WAST (10.00am UK time)
Duration: 1.5 hours
As part of our webinar series on investment and trade promotion and economic policy, GDP Global hosted this webinar to discuss the current issues facing those making policy choices and promoting FDI in Nigeria and West Africa.

Presenters
Charles Ughele, Chief Representative and Advisor, West Africa GDP Global
Francis Crusto, Senior Associate Director, FDI Nigeria
John Hanna, Director GDP Global
Facilitator: Christina Knutsson, Director GDP Global
Webinar themes
Trade and FDI flows and prospects update

Sector prospects: disruptive technologies 4IR and impact on existing business/industries
Checklist and prospects for Investfdi.
South & Southern Africa – Upcoming Webinar: FDI Promotion Excellence: Structure, Strategy, Campaigns.
Our speakers will also be sharing case studies to help bring to life solutions for promoting foreign direct investment.
Webinar audience
FMITI

NIPC

NEPZA

West Africa promoters in investment and trade

IPA Specialists

Private sector investors

in investment and trade from the region.
The demand for foreign direct investment (FDI) in Nigeria and West Africa has never been higher. Yet global FDI flows are hugely in decline in 2020. Will there be an upsurge in 2021? 
How can Nigerian States follow international best practices and be considered for new investment opportunities? What constitutes a winning FDI strategy? And what is the plan to make it happen?
How should Nigeria's Special Economic Zones track, approach and attract investment opportunities in the next 12 months to two years?