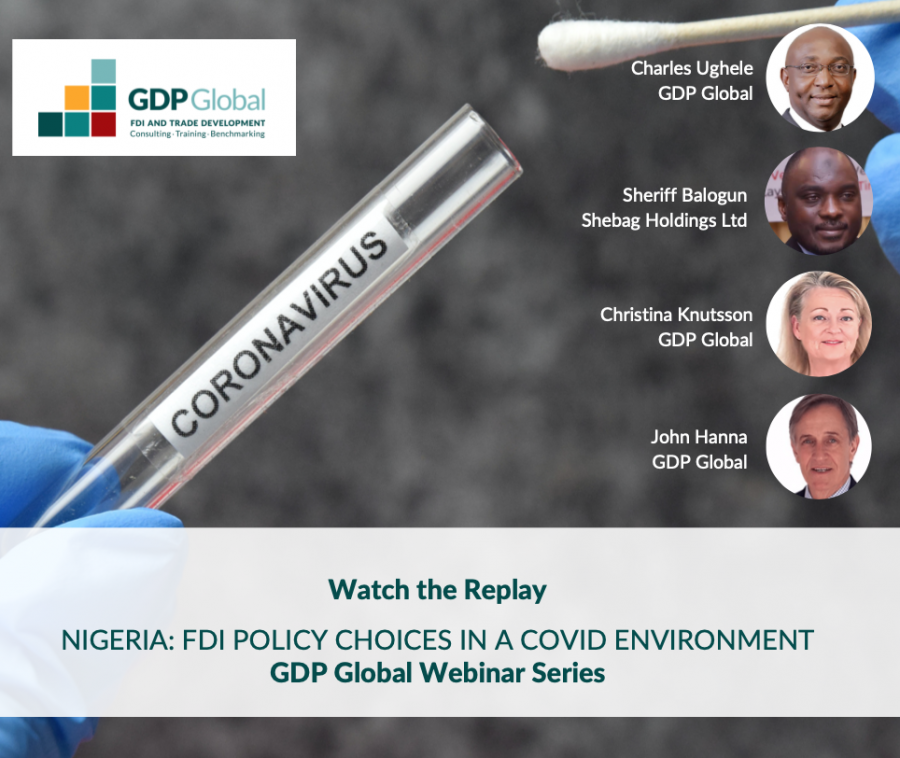 Nigeria: FDI Policy Choices in a COVID Environment Webinar
Duration: 1 hour.
As part of our webinar series on investment and trade promotion and economic policy, we hosted this webinar to discuss the current issues facing those making policy choices in a COVID environment, specifically within Nigeria.
Presenters
Our presenters were Charles Ughele, John Hanna & Christina Knutsson of GDP Global with guest speaker Sheriff Balogun, Managing Director/CE Shebag Holdings Ltd and President National Sesame Seed Association of Nigeria.
Webinar themes
Trade and FDI flows and Prospects post-COVID

 

Best Practice Policy Actions

 

Nigeria Responses at Policy and State Levels

 

Sector Prospects

: Agriculture

 

Our Guide: Checklist and Prospects for Nigeria

 

Agriculture Value Chain

 
Our speakers also shared useful case studies which will help you understand pragmatic policies and solutions for Nigeria, especially in the ongoing COVID-19 environment.
Who should watch this webinar?
Officials of the Ministry of Industry
Nigerian Investment Promotion Commission
Export Promotion Council
Nigeria Export Processing Zones Authority
States Investment Promotion Agencies
Key business and export stakeholders across Nigeria